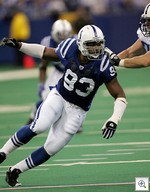 Municipal Stadium (Jacksonville) – After an eerie first half that saw the Colts lifeless, the SuperBowl MVP Peyton Manning picked up his teammates and did what an 11 year veteran should do. He carried his teammates and gave the city of Indianapolis another thrill with a 31-24 win over the 5-10 Jaguars. The Jaguars had a little inspiration with them with Richard Collier who was shot in a drive-by shooting, but still helped the team out by winning the coin toss.
The Jaguars would be the first to get on the scoreboard with a pass from David Garrard to Dennis Northcutt. They would then bring on their field goal kicker Josh Scobee and make the score 7-0. The scoring play was helped out by a steady diet of Maurice Jones Drew, who ran the ball all the way to Indy's 28 before Garrard found Northcutt. Jacksonville was not done there. On the next Jaguars possession, Garrard passed to Richard Angulo, who got the ball all the way to the Indy 9, before Garrard put the Jags up 14-0. Then, with the Colts needing a spark (how many times have we seen this over the years?), Peyton found Reggie Wayne on the 5th play of the ensuing drive cutting the lead to 14-7. That would be the end of Jacksonville's fun for the night. Adam Vinatieri tried, but missed his field goal attempt. After half time, Peyton really showed what being a leader was all about as the 6'5″ 230 lb. QB carried the team on his shoulders and the defense aided as they rose to the occasion.
Jacksonville had a lead of 17-7 at the half-time break, but the Colts would give the Jags a taste of things to come when Dominic Rhodes went into the end-zone and boosted the score to 17-14. Jacksonville was aided by another Colts blunder and made the score 24-14. At that point, things looked very bleak for the Colts. Manning then had an answer for the Jaguars as he found #84 Dallas Clark in the end-zone for a touchdown, making the score 24-21. Adam Vinatieri was on to tie the game for the Colts; this time he was money. Kiewan Ratliff had the key play of the game when he picked off Garrard's pass and took it to the house for 6. On the next Jacksonville possession, Dwight Freeney sealed the Colts trip to the playoffs when he sacked Garrard and ended the season for the Jags at 5 and 10. Final Score: Colts 31 – Jaguars 24.